We have a wide range of peripherals to fully automate the raw material maintenance processes in processing machines for the plastics transformation industry and the chemical, pharmaceutical and food sectors.
EXTRACTOR-DOSERZFP
dosing
electronic weighing
extraction
lifting
continuous mixing
From: Silo, Big-Bag, container, sack, mixer, etc.
Products handled: sugar, flour, cocoa, powdered milk, carbonates, sulphates, sands, cereals, plastics, etc.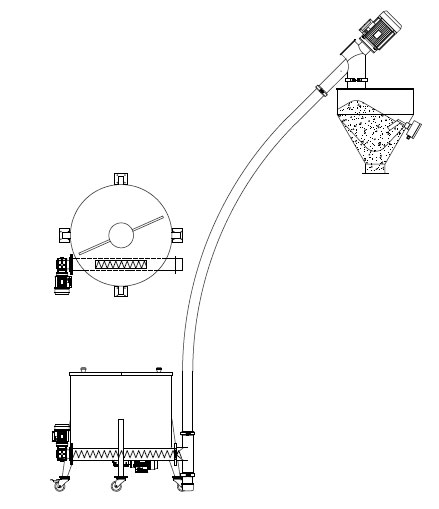 DOSER EXTRACTOR FOR LOW FLUIDITY POWDER PRODUCTS
This assures a regular product flow and constant filling of the dosing unit without dosed product flow regularity problems.
APPLICATIONS
Powder product dosing: sugar, flour, lime, cocoa, plaster, powdered milk, iron sulphate, etc.
Product distribution: up to four application points under the same silo.
Direct feeding of: process machines, tanks, weighing hoppers, mills, sieves, etc.
ADVANTAGES
Large extraction area.
Fast mounting in new or existing installations.
Minimum space taken up.
Minimum energy consumption (from 1 to 2 HP)
Mechanical extraction, no air, no pollution.
Rigid or flexible dosing distributor, horizontal or curved at a height.
Maintenance-free.
Silent operation.
OPERATION
A cylindrical tank with a flat bottom fitted with a set of flexible metal paddles assuring constant saturation of the dosing spiral and preventing any formation of vaults. Each turn of the dosing spiral always moves the same amount of product. The dosing spiral channel covers the whole diameter of the base so the whole tank can be emptied. The precision is ± 1 to 2% (ask if you require greater precision).
Unit

Capacity
(l.)

Flow
(l./h)

Height
(mm.)

ZFP-600

100
200

De 0,5 a 4.000

60
950

ZFP-800

300
500
750

De 1 a 10.000

850
1.250
1.750
FLOW
The flow depends on the diameter and the dosing spiral turning speed. The speed may be constant or variable.
Type ZFP/DM 600:               with a tank of 60 to 120 litres.
Flow from 0.5 to 4,000 litres/hour.
Type ZFP/DM 800:               with a tank of 250 to 2,000 litres.
Flow from 1 to 10,000 litres/hour.
We build to measure. Ask if you require any special version.