We have a wide range of peripherals to fully automate the raw material maintenance processes in processing machines for the plastics transformation industry and the chemical, pharmaceutical and food sectors.
PNEUMATIC FEEDERS BY VACUM
POWDER CONVEYORSO
The PX vacuum powder conveyors are
compact and independent units. When the special wide discharge valve is closed, the suction unit driven by a pneumatic vacuum pump creates the vacuum (8000 mm H²O max.) inside the container where it is fitted. The material climbs the suction pipe to the container (which can be adjusted by the work timer). When the filling is complete, the pump stops. The weight of the material itself opens the discharge valve and the container empties. When the container is empty, the valve closes once more and the cycle starts again. This may be delayed by means of the pause timer. The filter is cleaned automatically at the end of each cycle. The level adjuster is on the discharge valve so when the container under the unit is filled the operation stops. The cycle restarts when the level of the material in the receiver hopper falls.
ADVANTAGES
COMPACT MANUFACTURE: with high output, manually transportable.
NON-FLAMMABLE: as it is completely pneumatic.
EASY TO CLEAN: it can be washed with water as there are no electrical parts.
EASY TO MAINTAIN: the parts separate quickly.
CONVEYOR SPEED ADJUSTMENT: the conveyance can be adjusted by the controlled air.
CLEAN ENVIRONMENT: the unit does not allow powder to go in or come out, so the conveyance is clean.
CONTINUOUS CONVEYANCE: by applying a DS 25 or DS 8 doser you will have continuous dosing and conveyance as required.
MATERIALS: the series units are in Stainless Steel AISI 304, and Stainless Steel AISI 316 to order, or iron.
APPLICATIONS
Chemicals, pharmaceutical, foodstuff, plastics and any other area where the powder or ground material can be conveyed.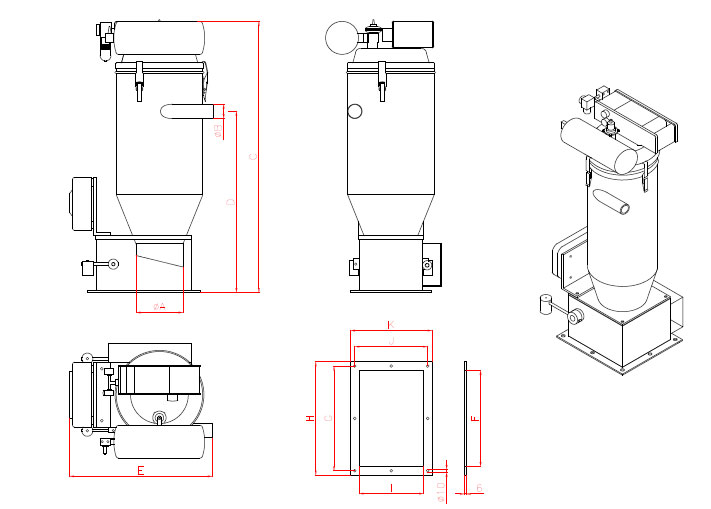 | | | | | | | | | | |
| --- | --- | --- | --- | --- | --- | --- | --- | --- | --- |
| MODEL | A | C | E | F | G | H | I | J | K |
| PX500 P | 163 | 740 | 490 | 332 | 362 | 393 | 223 | 253 | 283 |
| PX1000 P | 163 | 830 | 490 | 332 | 362 | 393 | 223 | 253 | 283 |
| PX1500 P | 163 | 1000 | 490 | 332 | 362 | 393 | 223 | 253 | 283 |
| PX2000 P | 190 | 930 | 500 | 280 | 310 | 340 | 330 | 360 | 390 |
| PX2500 P | 190 | 1070 | 545 | 280 | 310 | 340 | 330 | 360 | 390 |
| PX2600 P | 250 | 1200 | 600 | 452 | 482 | 512 | 302 | 332 | 362 |
| PX3000 P | 250 | 1210 | 620 | 452 | 482 | 512 | 302 | 332 | 362 |
MODEL

AIR CONSUMPTION l./min

VACUUM
mm H²O

WEIGHT
Kg.

OUTPUT
dm³/h

Ø
 EMPTYING

PX500 P

180

8000

23

500

160

PX1000 P

280

8000

28

1000

160

PX1500 P

500

8000

31

1500

160

PX2000 P

750

8000

34

2000

190

PX2500 P

900

8000

43

2500

190

PX2600 P

900

8000

48

2600

250

PX3000 P

1800

8000

60

3000

250