We have a wide range of peripherals to fully automate the raw material maintenance processes in processing machines for the plastics transformation industry and the chemical, pharmaceutical and food sectors.
VERTICAL MIXER MVP
The "MVP" series vertical mixers are recommended for mixing plastic pellets. The steel construction with painted exterior is very robust and the unit stands on four legs on the floor.
The mixer spindle is driven by a 4-terminal three phase electric motor with trapezoidal belt drive.
The manual loading is performed with a loading hopper and protective grille using a support for the sacks.
The different model assemblies are fitted with protections, inspection hatches, alert lights, recycling unloading, material unloading with manual opening.
The range includes sizes varying between 500 and 20,000 litres.
SPECIFICATIONS
Loading hopper with protective grille.
"Fountain" type mixing spindle.
Discharge pipe with butterfly valve.
Lower emptying opening for cleaning and full control.
Level indicator light.
Inspection hatch over the cylinder (only for larger models).
Electric panel with timer.
Four support legs.
All machines are fitted with safety devices according to European standards and are CE marked.
ACCESSORIES TO ORDER
Palette level sensor for controlling the mixer load.
Hook for pneumatic suction lance.
Flange for feeder screw hook.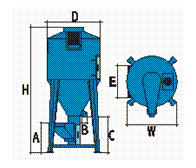 | | | | | | | | | | | |
| --- | --- | --- | --- | --- | --- | --- | --- | --- | --- | --- |
| TYPE | dm3 | Kw | Kg | A | B | C | D | E | H | W |
| MVP 500 | 500 | 2,2 | 250 | 600 | 150 | 800 | 850 | 650 | 2550 | 1150 |
| MVP 1000 | 1000 | 4 | 320 | 650 | 200 | 800 | 1060 | 750 | 3050 | 1250 |
| MVP 1800 | 1800 | 5,5 | 450 | 700 | 230 | 800 | 1400 | 950 | 3200 | 1400 |
| MVP 2500 | 2500 | 5,5 | 480 | 700 | 230 | 800 | 1500 | 950 | 3500 | 1450 |
| MVP 3500 | 3500 | 7,5 | 600 | 700 | 230 | 800 | 1600 | 950 | 3900 | 1500 |
| MVP 5000 | 5000 | 7,5 | 700 | 750 | 230 | 800 | 1900 | 1000 | 4200 | 1800 |
| MVP 8000 | 8000 | 7,5 | 920 | 750 | 230 | 800 | 2350 | 1000 | 4600 | 1950 |
| MVP 10000 | 10000 | 11 | 1050 | 750 | 230 | 800 | 2350 | 1000 | 5100 | 1950 |
| MVP 14000 | 14000 | 11 | 1200 | 750 | 230 | 800 | 2450 | 1000 | 5700 | 2150 |
| MVP 16000 | 16000 | 15 | 1400 | 750 | 230 | 800 | 2450 | 1000 | 6200 | 2150 |
| MVP 20000 | 20000 | 18,5 | 1800 | 750 | 230 | 800 | 2450 | 1000 | 7500 | 2150 |