We have a wide range of peripherals to fully automate the raw material maintenance processes in processing machines for the plastics transformation industry and the chemical, pharmaceutical and food sectors.
THREE PHASE FOR POWDERS 800 p
The Transplast three phase 800P series feeders are the best possible solution to guarantee absolute reliability when conveying powder products, even over large distances. The units are fitted with three phase turbines with a side channel in a design that needs no maintenance. The available powers range from 1.1 kW to 11 kW. Ask if higher powers are required.
Main features:
Stainless steel receiver hopper.
High efficiency side channel turbine.
Acoustic buzzer/alarm indicating load fault
Seal-free sealed discharge door
Noise within the limits established by the regulations
Receiver hopper sealed lid with four closing points
Polyester fabric suction filter with seal in the cyclone
Automatic filter cleaning with shaking system with pneumatic cylinder
Design and manufacturing standard in accordance with European CE regulations
Electric control panel with the possibility of varying the operating parameters alongside the machine with:
Control and management module
loading time management
Pause time management
Management of cleaning time and regularity
Double duo feeding installation
We can set up a double feeding system made up of a three phase turbine supplying the vacuum to two material reception hoppers. Duo system.
A small compact work station can thus be made.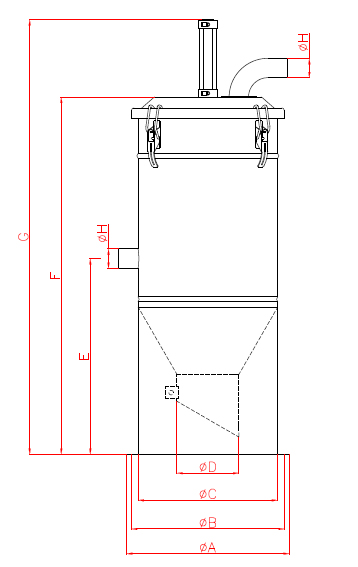 | | | | | | | | | | | |
| --- | --- | --- | --- | --- | --- | --- | --- | --- | --- | --- |
| MODEL | Ø A | Ø B | Ø C | ØD | E | F | G | ØH | Volumen litros | Kw. potencia |
| 800 P 1.3 | 420 | 395 | 360 | 160 | 505 | 920 | 1120 | 50 | 21 | 1,3 |
| 800 P 2.2 | 420 | 395 | 360 | 160 | 505 | 920 | 1120 | 50 | 21 | 2,2 |
| 800 P 4.0 FC | 420 | 395 | 360 | 160 | 505 | 920 | 1120 | 50 | 21 | 4,0 |
| 800 P 5.5 FC | 420 | 395 | 360 | 160 | 505 | 920 | 1120 | 60 | 21 | 5,5 |
| 800 P 7.5 FC | 420 | 395 | 360 | 160 | 505 | 920 | 1120 | 60 | 21 | 7,5 |