We have a wide range of peripherals to fully automate the raw material maintenance processes in processing machines for the plastics transformation industry and the chemical, pharmaceutical and food sectors.
DRYER S
Series D dryers are units created to deal with any kind of non hygroscopic granular thermoplastic material. They are supplied standard with a P.I.D. thermo regulator with lit-up screen by intervention resistance to insert the alarm displayed thanks to a flashing light.
The hopper is made in stainless steel and is completely insulated with ceramic fibre. They may be installed directly on the transformer machine or on a support on wheels. Special attention must be paid in making the drying hoppers in order to promote the even distribution of the hot air. The hopper is made easier to clean with the fast-opening lid with hinges.
The return air partial or total recycling system allows the drying cycle to be optimised according to the percentage of granule moisture.
ALL DRYERS ARE PREPARED FOR THE INSTALLATION OF OUR AUTOMATIC FEEDERS.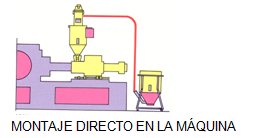 SERIES D HOPPERS  
| | | | | | |
| --- | --- | --- | --- | --- | --- |
| SPECIFICATIONS | U.m. | D1 | D2 | D3 | D4 |
| Air flow | m3/h | 50 | 70 | 170 | 400 |
| Blowing power | Watt | 68 | 127 | 187 | 374 |
| Heating power | Watt | 1200 | 2500 | 3000 | 3600 |
| Max. temperature | ºC | 150 | 150 | 150 | 150 |
| Size                                    A | Mm | 400 | 580 | 615 | 710 |
| B | Mm | 190 | 290 | 300 | 340 |
| C | Mm | 240 | 340 | 410 | 410 |
| Weight | Kg. | 9 | 15 | 20 | 23 |
| Hopper capacity | Min | H-15 | H-30 | H-55 | H-150 |
| | Max | H-30 | H-55 | H-150 | H-250 |
| Voltage / Phase / Frequency | V/A/Ph | 230/1/50 | 230/1/50 | 400/3/50 | 400/3/50 |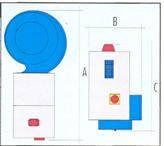 SERIES H HOPPERS                        

SPECIFICATIONS

U.m.

H-15

H-30

H-55

H-100

H-150

H-250

Hopper capacity

l

15

30

55

100

150

250

Size TR diam.
G

Mm

390

390

390

510

570

570

H

mm

400

650

880

890

1050

1520

Weight

Kg

11

18

21

27

36

54

Size with dryers

E

mm

550

670

670

800

860

860

F

mm

460

570

610

810

705

705

D

mm

460

460

460

570

650

650

H+I

mm

805

1035

1045

1205

1675

Size with support

M

mm

690

690

690

690

690

N

mm

900

900

900

900

900

P

mm

1225

1455

1465

1625

2095

O

mm

340

340

340

340

340

SERIES S – ES DRYERS
| | | | | | | | |
| --- | --- | --- | --- | --- | --- | --- | --- |
| SPECIFICATIONS | U.M. | S400C | S600C | S800C | ES1200 | ES1500 | ES2000 |
| Air flow | m3/h | 210 | 310 | 310 | 450 | 580 | 750 |
| Blowing power | Watt | 1500 | 2200 | 3000 | 4000 | 5500 | 7500 |
| Heating power | Watt | 9000 | 12000 | 15000 | 15000 | 18000 | 21000 |
| Max. temperature | ºC | 150 | 150 | 150 | 150 | 150 | 150 |
| Hopper capacity | l | 400 | 600 | 800 | 1200 | 1500 | 2000 |
| Voltage / Phase / Frequency | V/A/Ph | 400/3/50 | 400/3/50 | 400/3/50 | 400/3/50 | 400/3/50 | 400/3/50 |
DRYER MATERIALS
HOPPER CAPACITY

MATERIAL

TIME

TEMP.
ºC

H-
15

H-
30

H-
55

H-
100

H-
150

H
250

H-
400

H-
600

H-
800

H-1200

H-1500

H-2000

ABS

2-3

80

4

8

15

28

42

70

110

165

220

275

415

550

CA

2-3

60-70

5

10

20

35

53

88

140

210

280

350

525

700

PA

3-5

80-90

3

6

13

23

30

58

93

120

186

234

300

468

PC

2-4

120

6

12

22

40

60

100

160

240

320

400

600

800

PE

1

80-90

9

18

33

60

90

150

240

360

480

600

900

1200

PMMA

2-3

80

5

10

18

33

49

81

130

195

260

325

488

650

POM

2-3

80-100

6

12

22

40

60

100

160

240

320

400

600

800

PP

1

90

9

18

36

65

98

162

260

390

520

650

975

1300

PPO

2

110

5

9

16

30

47

75

120

180

240

300

450

600

PS

1-2

80

8

16

30

55

83

138

220

330

440

550

825

1100

PUR

2-3

90-100

6

12

22

40

60

100

160

240

320

400

600

800

PVC

1

70

11

21

39

70

105

175

280

420

560

700

1050

1400

SB

2-4

70

5

9

16

30

45

75

120

180

240

300

450

600